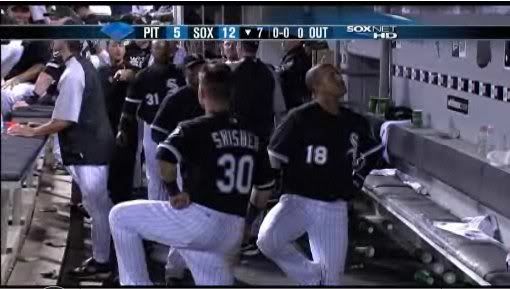 It's just past 1 and I have ideas running around my little mind right now. There were no blockbuster trades like there have been in the past two days in the majors and there's nothing that is really standing out in the world of sports. But there are a bunch of little things to discuss and discuss we shall.
First Place Baseball:
The Cubs and White Sox continued their winning ways on Wednesday night. Carlos Zambrano delivered eight majestic innings of one-hit ball and Kerry Wood worked around Carlos Marmol's 9th inning mess to preserve the win. Aramis Ramirez's solo shot off of Johnny Cueto in the bottom of the 6th propelled the Cubs to the 5-1 win.
As for the Sox, they overcame another big deficit and came from behind to defeat the Royals 7-6. Carlos Quentin hit two homers and drove in four to lead the way for the Sox. Jim Thome singled in the tying run in the top of the 8th. Royals reliever Ramon Ramirez balked in the go-ahead run and Octavio Dotel struck out the side on ten pitches to earn the save.
So what do we make of all of this? Well we learned that Lou Piniella is still a bumbling idiot. The White Dusty Baker continued overusing Carlos Marmol as he brought in the star setup man with a 4 run lead in the 9th inning. Hey Lou, you just acquired Chad Gaudin. And for some reason you decided to warm him up in the bottom half of the 8th inning, but decided against bringing him in so you could go to Marmol yet again. In a season where everything has been coming up Cubs, Piniella's managing of Marmol has been the most inexcusable thing that has happened this season. Pitching him in a game where you're up 7-1 and then when you're up 5-1 sure doesn't make a whole lot of sense to me. I can't wait to see Bob "The Boss" Howry come in and blow tomorrow's game in the 8th inning.
As for the Sox, Octavio Dotel needs to be the closer until Bobby Jenks comes off the disabled list. Dotel has closed in the past back when he was a member of the Royals and tonight, he showed just how electric he can be in a role such as that. 10 pitches in the inning, 9 of them being strikes. In one word: dominant. Scott Linebrink has been nothing short of a disaster since he has been in the closer's role in Jenks' absence. As a matter of fact, the only reason Dotel closed tonight was because Linebrink was unavailable. It will be interesting to see if Mr. Guillen decides to stick with Linebrink or go to the more closer-ready Dotel until Jenks has a healed left shoulder.
One more note on the Sox, but apparently Jermaine Dye didn't get the message that he could be voted into the All-Star game. In the 8th inning when the Sox took the lead, cameras caught Orlando Cabrera telling Dye to kiss his "posterior." Cabrera stole 3rd during Dye's at-bat. Dye then proceeded to strike out a pitch later. I don't know what was going on there, but it could be something to watch. Cabrera hasn't made a lot of friends (maybe Nick Swisher) during his stay in Chicago. Calling the pressbox to change a scoring decision is bush league. But I can't fault Cabrera on this. You're down by one run and you put yourself at 3rd base with only 1 out. Where's the harm in that? I don't understand Dye's beef, but if someone could help clarify that, I'd appreciate it.
Other MLB Games of Note:
It sure was a great day for the Cubs today. Not only did they win their third straight, but the Cardinals and the Brewers both lost on the same night. The Brewers lost to a pitcher known as Glendon Rusch. Yes,
the
Glendon Rusch. They're now 1-2 since the acquisition of CC Sabathia and are now 5 games out of the lead in the division. As for the Cardinals, it looked like they were going to have another come from behind victory, but Ryan Howard and Pedro Feliz put an end to that with two solo homers in the bottom of the 8th. Brad Lidge made things interesting with some wildness in the 9th, but he struck out HGH user and former crackhead Rick Ankiel on three pitches to give the Phillies the 4-2 victory. Mark Mulder made his first start since September and could only throw 16 pitches before complaining of shoulder pain. If the Cardinals were counting on Mulder to make a contribution this season, they were foolish. He was only topping out at 86 miles per hour when he was in the bullpen. I guess that was good enough for Tony the Drunk to move him into the rotation.
Things were just as good on the American League side of things for White Sox fans as the Twins were annihilated by the Red Sox on Wednesday afternoon. The Twinkies came into the series only one game behind the Palehose, but they leave Beantown 3 1/2 back after the Red Sox were able to sweep the Twins at Fenway. An overturned triple play call in the bottom of the 7th propelled the Red Sox to seven runs in the inning. Meanwhile, the Twins continue to struggle outside of the HumpDome. The Twins travel to Detroit where they will take on the Tigers for a four game set beginning tomorrow afternoon.
NBA Free Agency:
After the Clippers signing of Baron Davis, it looked like Elton Brand would have been a sure thing to return. Then the Warriors and 76ers decided to go on an all-out pursuit of the former number one draft pick. The 76ers ended up as the big winners of the Brand derby as he agreed to a five-year contract worth nearly $80 million. The Warriors ended up with another former Clipper in Corey Maggette. Golden State also made a hefty qualifying offer to backup forward/center Ronny Turiaf from the other Los Angeles team. And the Clippers? They're turning their attention to try to lure Josh Smith out of the ATL. If that fails, look for the Clippers to go after Luol Deng.
Speaking of Deng, he apparently wants $12.5 million a year from the Bulls. There's no way this guy is worth that amount of money. I realize that the market is in complete shambles right now, but Luol Deng does not deserve that kind of money. Not after he took a major step backwards last year. It appears that Ben Gordon will be back with the Bulls, but he has still not received an official offer yet from the team. However he has spent his entire offseason in Chicago and he has reiterated several times that he wants to stay with the Bulls. On Sunday during the White Sox-Athletics game, Gordon was in the White Sox television booth for an inning as he dished out several compliments to Derrick Rose, John Paxson, and Vinny Del Negro. Ultimately I believe both players will be in the white, red, and black next year. But keep an eye out on the developments that are going on with the Clippers because they will make Deng a very attractive offer if Smith decides to stay with the Hawks.
Tony Stewart Set to Leave Gibbs:
Yeah I had to get a NASCAR nugget in here. As the resident NASCAR hick, I have to do my share of bringing the sport up. And since NASCAR will be in Joliet this weekend, I will post my most exciting blog of the year tomorrow to preview the Nationwide race on Friday night and the Sprint Cup race on Saturday night. But enough about that. Tony Stewart made it official today that he would be leaving Joe Gibbs Racing at the end of 2008. Stewart could drive for any team in the sport. Hendrick Motorsports had a car open for next season and beyond before Mark Martin signed a two-year deal at Daytona last week. Could you imagine a team of Jeff Gordon, Jimmie Johnson, Dale Earnhardt Jr, and Tony Stewart? Even people who don't know a thing about NASCAR know who all four of those drivers are.
In the end, Stewart chose to buy into an existing team (Haas/CNC Racing) and to merge operations. The move is perplexing because Haas is one of the worst multi-car operations in the sport. Haas does receive engines and chassis from Hendrick Motorsports, but they have never been close to running as well as any of the four Hendrick teams. Both of their cars are outside of the top 35 in the point standings and both drivers (Scott Riggs and Johnny Sauter) appear to be on their way out with the addition of Stewart coming in. An official press conference will be held tomorrow at Chicagoland Speedway as Stewart will discuss his new sponsor for his new car - Office Depot - as well as the second driver to his team, which most likely will be Ryan Newman. So the big winner in this is Haas/CNC Racing as they upgrade their driver talent from Riggs and Sauter to Stewart and Newman. It will be interesting to see how competitive they are because Stewart and Newman are two of the best drivers in the series.
That's it for tonight. Check back tomorrow when I preview the weekend races at Joliet. Hopefully Lou Piniella manages a good game tomorrow afternoon so I won't have to use the phrase, "The White Dusty Baker" again.
-Resident Hick