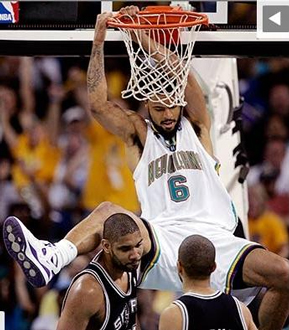 With the NBA trade deadline fast approaching, teams are looking to manipulate their rosters in preparation for the salary cap dip this summer and the ultimate free agency class of 2010. So far, there have only been two major moves. One was successful and the other was not that smart. 
The promising New Orleans Hornets were flirting with some salary cap penalties because of all the big name players they were overpaying. So they decided to ship out Tyson Chandler. That is an understandable move since Chandler is not the most special player in the post, but he was a key component to Chris Paul's pick-n-roll dominance. 
I know I will miss the misdirection lob passing beauty that Paul and Chandler mastered with each other. But all good things must come to an end. Even though the Hornets broke up that combination, they could have done a much better job of bringing in someone to fill the void on the pick-n-roll combination. 
Instead they received Chris Wilcox and Joe Smith. Again, they are not the worst players in the world, but their games are much different than Chandler's. Chandler was lengthy enough to throw down the oop from any angle and he would bring defensive intensity. 
Wilcox and Smith have some nice jumpshots, but the Hornets will suffer with interior defense and definitely with the athleticism required to throw down the oops Chandler did. I understand the need to get under the cap, but let me just remind the whole NBA right now. 
There is ONLY ONE LeBron James. 
All these teams are trying to position themselves to get him and only one team will end up with him. So the rest of these teams trying to unload salaries are going to end up disappointed and worse off than they were in the 2008-09 season. Sure, they can get other top free agents, but I think teams need to focus on the present as well. 
The Hornets are going to suffer this year because of the move, but they need to continue to develop Hilton Armstrong and hope they can get a player like Amare in 2010. 
On the other hand, the Chicago Bulls made a nice move by getting the versatile John Salmons and sure-handed Brad Miller. The Bulls have needed a "true" guard and a post presence for quite some time. 
Salmons will provide the undersized Bulls with a lengthy threat on the outside and his basketball IQ is much higher than "I shoot everything" Larry Hughes. He is also a decent backup in the small forward position if need be. 
Meanwhile Miller instantly adds a post presence on both ends. He is not a great defender but at least he has size. His passing is some of the best in the league for a big man and he has polished post moves. The Bulls will be more competitive in their last ditch playoff push and they are not taking on major salaries. 
I wouldn't be surprised if the Bulls made a move to get David Lee, but they are already better than they were before the break.
I'm sure there will be at least one more move before the deadline and I just hope teams take into consideration that there are not 30 LeBron James' that will be free agents in 2010. And I definitely hope my Milwaukee Bucks do not trade Richard Jefferson. If the Bucks lose Jefferson, they can say goodbye to the playoffs.