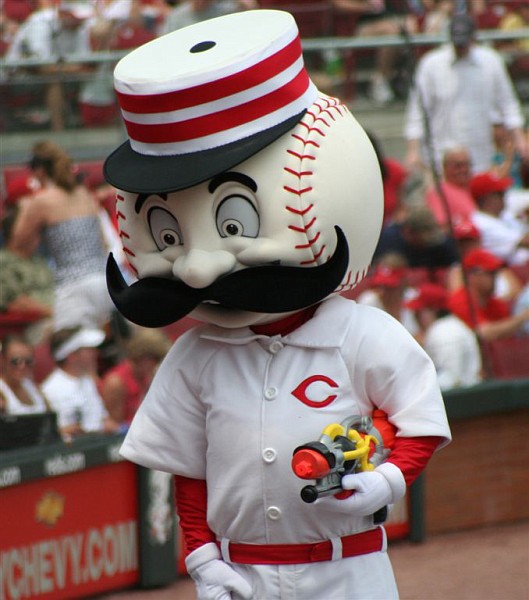 Another year, another continuation of the playoff drought blues for the Cincinnati Reds.
But for 2009, as Kevin Garnett once said,
"anything is possible"
.
I know it sounds silly to consider the Reds contenders in the NL Central but with the the division as bad as it is and the Chicago Cubs prone to letdowns, who knows?
There are certainly some interesting young pieces on this club and general manager Walt Jocketty has done a fine job so far after coming over from St. Louis where he delivered a World Series title in 2006.
The offense is young and powerful top to bottom with future stars like Joey Votto, Jay Bruce, Brandon Phillips, Chris Dickerson and Edwin Encarnacion. Cincinnati has to hope that Dickerson wins the full-time job now that Adam Dunn and Ken Griffey Jr. are done hogging the outfield.
The Reds have been quiet in the offseason thus far without a ton of money to spend but it is probably for the best that they didn't trade for Jermaine Dye of the White Sox.
Dye would provide an instant shot in the arm for the offense but wouldn't be cost effective. I'm not sure if the rumored deal of pitcher Homer Bailey for Dye was true or not, but if they were looking to add a corner outfielder, Bobby Abreu (now of the Los Angeles Angeles of Anaheim) would have been just as good and cheaper.
The only piece I think is critical for this team is a shortstop. Alex Gonzalez, although a Dusty Baker favorite (just kidding it was the other
Alex Gonzalez
), isn't what this team needs. Orlando Cabrera would offer this team a no-nonsense personality who provides better defense and a better bat in the lineup.
The rotation on other hand could be really good or really bad depending on who you talk to.
Edinson Volquez looked like a Cy Young award shoo-in during the first half but ran out of gas after the all-star break as the innings continued to mount. Ditto Johnny Cueto. Baker put too much of a burden on his young pitchers by having them throw a ton of innings.
Does this
sound familiar
to anyone?
If the young duo can bounce back along with the bizarre struggles Aaron Harang and Bronson Arroyo had in 2008, this rotation could surprise a lot of people.
I don't think the Cubs have an absolute stranglehold on the division but they are clearly the favorites. The Milwaukee Brewers and St. Louis Cardinals are both stuck in neutral so perhaps second place is up for grabs.