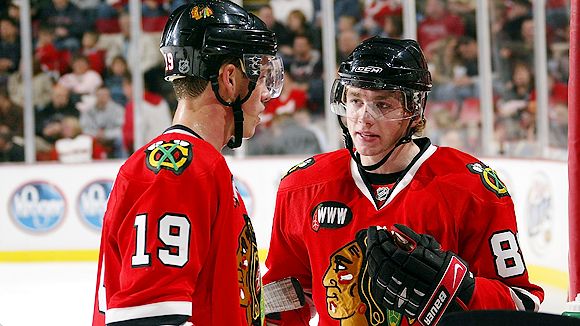 Eight down, eight to go.
That was the theme being preached in the Chicago Blackhawks locker room after their sensational 7-5 series-clinching victory over the Vancouver Canucks. With the win, the Hawks won their second series and if they can win two more series, they'll do the unthinkable and bring home the coolest trophy in professional sports.
But before that can even be thought about, the Hawks have to continue to take care of business. More than likely, the nemesis that are the Detroit Red Wings will be the next opponent for Chicago in their run to Lord Stanley's Cup. One can only imagine how ridiculous, insane, and unreal a series boasting the league's best rivalry for the chance to win the Clarence Campbell Cup would be.
Earlier today, I mentioned how lackluster Patrick Kane and Jonathan Toews have been in spurts in the postseason so far. Toews had a great series against Calgary, but up until today, he was a non-factor in the Vancouver series. Kane's battled questions about his toughness after sitting out a game against the Flames and has had a couple of great games in the playoffs followed by some really brutal ones. Today, both the teenie boppers were on fire with Kane netting a hat trick and Toews scoring two goals and assisting another.
If these two can both be on at the same time, why can't this team be the best in the league? Keep in mind the Blackhawks scored seven goals against one of the best goalies in the league in Roberto Luongo. And to make sure this wasn't a fluke, they scored six on him in Game 2 back in British Columbia. There's no denying the offensive firepower that this team boasts. But if the Hawks want to continue their strong playoff push, the defense and Nikolai Khabibulin are going to have to be more consistent. Brent Seabrook's going to have to play much better because his defensive shortcomings tonight were inexplicable. Khabibulin did have 33 saves tonight, including a barrage of great saves in the early going of the 1st period and throughout stretches in the 3rd period. But he has still let in his fair share of soft goals and he won't be as fortunate if he does that to a team that's even more offensively skilled in the Red Wings.
This season has been a blast for the Blackhawks and there's no question that this franchise is restored back to its respective place on the pedestal. Rocky Wirtz, John McDonough, Dale Tallon, and Joel Quenneville all deserve an exponential amount of praise of what they have done to the Chicago Blackhawks. Thank you for the fun ride up to this point. Now let's go ahead and take down Detroit or Anaheim in the Conference Finals.