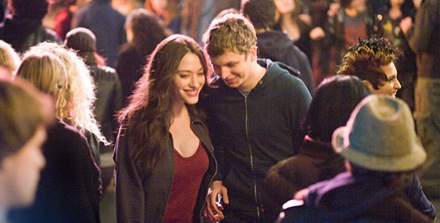 If the aspiring sports journalists here at TBDS can dominate their midterms like Greg Oden dominated his first exam...well...then I think it's safe to say we are headed to ESPN.
The NBA is back and it's already got me excited for the real deal with two great individual performances by rookies and one great game all within the span of three days.
The highly touted Michael Beasley was the first to make an impact as he dropped 16 points on Detroit in the first game of the preseason. Sure, it doesn't count, but if you can see "Nick and Norah's Infinite Playlist," and put up a great performance on the Pistons mere hours later, then I think a bright future is on the horizon.
I'm calling it now. When "Transformers 2" comes out, he is going to score 50 and get 10 boards.
The other rook to do some serious damage was the aforementioned Mr. Oden. The big man threw down a pair of tenacious dunks and grabbed five boards, but it was his thunderous block that ignited the crowd.
There is no doubt he has had his knee problems, but his block showed he is comfortable jumping out of a gym without worrying about injuring his leg. Portland is going to be exciting. I would keep an eye...no, I would keep two eyes on that team.
The game of the preseason was last night's contest between the L.A. Lakers and Utah Jazz. They showed the beauty of playing games that have no implication. Veteran players were out on the floor being creative and stepping out of their roles trying new things. I will give you a quick idea of what you missed.
*Derek Fisher passing behind his head while sitting down for an Andrew Bynum dunk
*Trevor Ariza steals, passes to Kobe up the floor, who passes it back around-the-back
*Deron Williams throws an "And-1" pass from the 3-point line to the post
*Jordan Farmar being the Lakers' team-leader with 15 points
If an NBA fan can't enjoy that, then there is something wrong. It is rare to see Kobe play the secondary role and Farmar to carry the load, but it's a fun switch up every once in a while.
On a sad note, my Milwaukee Bucks bit the bullet and got rolled by the T'Wolves 117-79. But I'm not too worried. Richard Jefferson, Andrew Bogut, Luke Ridnour, Tyronn Lue and Joe Alexander all sat out of the game.
If you get a chance to check out some preseason action, I highly recommend it. Definitely check out the games in Europe and in China on ESPN2 if you can, they should be really fun games to watch.