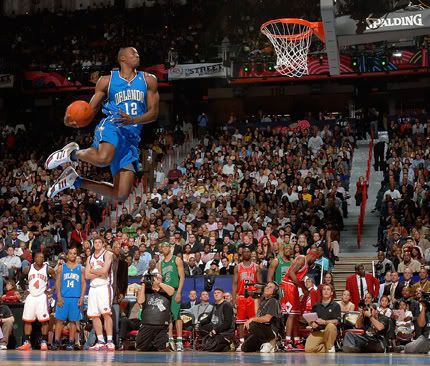 Now that the Detroit Pistons have taken their claim to the central's crown, lets talk about the young, sexy southeast division. This is where everyone is making their "sexy" pick. A team that has the potential to be great, but has plenty to prove. There should be a lot of fun, fast-paced basketball, but the skill level will not be as good as the central overall. Don't lost track of this division though, they could produce the spoiler or cinderella.
In a division of up-and-coming teams, the Magic serve as the benchmark. They have shown what good drafting and off-season management can do for a team. Dwight Howard is the best center in the Eastern Conference and has promised he will break his rebounding record that he set last year. Rashard Lewis and Hedo Turkoglu force defenders to come to the perimeter and Howard takes it from there. They have the vastly underrated Jameer Nelson running the point and Keith Bogans at the two spot for now. They have a great offensive set, good defense and enough to win the southeast. All they need is the bench to come through.
Team MVP:
Dwight Howard - There is no doubt Superman is the engine that makes this team go. He swats an ungodly amount of shots, rebounds better than anyone and mows over the opposition on his way to the rim. Free throw shooting? Yeah...not so much there.
Rising Star:
Courtney Lee - Normally I don't like saying a rookie is a rising star, but Lee is that good. His athleticism and speed are a perfect fit for Orlando and a lot of people will be surprised when he walks off the bench and fits like a glove in their system.
Falling Star:
Tony Battie - This guy used to defend the paint with the best of them. He would come off the bench grab his boards, deny a few unlucky souls and throw down some dunks. Coming off of a torn rotator cuff at 32 will start to slow him down.
For some reason people are not talking about this team in the playoffs. Let me just make sure I got this right. Dwayne Wade...check, Shawn Marion...check and Michael Beasley...check. That is arguably the best trio in the southeast division and they are going to win the Heat plenty of games. The problem starts with defense, which is completely on Udonis Haslem and Marcus Blount, and it continues with the bench. If Mario Chalmers, Chris Quinn and Shaun Livingston can contribute well at the guard, this team will be just fine. The only thing I see holding this team back is lack of defense. 
Team MVP:
Dwayne Wade - He has his ring, he has his gold now he has to start paving his path to the Hall. He is possibly the best penetrator from the guard position but his shot is suspect and his defense is average. I think he will be extremely motivated and raise his game significantly, which is scary considering how good he is now.
Rising Star:
Chris Quinn - Clearly Michael Beasley is the best young talent on the team, but Quinn has impressed lately. He is showing he has the vision and composure to run a floor, and a nice outside shot. Cohesiveness is a big part of this team's success and he can bring that.
Falling Star:
Jamaal Magloire - He is no longer the All-Star he once was. His passion seems to be leaving slowly as he has become unreliable about the effort he gives during any given game. If he can get excited again, he still might be a valuable defender and steady hand in the post.
I love this team and wanted to put them higher, but they have five really good starters and a bench that might as well be empty. It doesn't get much better than Mike Bibby, Joe Johnson, Josh Smith, Al Horford and "Marvelous" Marvin Williams. However, it does not get a whole lot worse than Othello Hunter, Zaza Pachulia and Solomon Jones. But win or lose, they play REALLY exciting basketball and can throw down from all angles while running the whole time. The loss of the best sixth man in the Eastern Conference, Josh Childress, probably knocked this team out of the playoffs. 
Team MVP:
Joe Johnson - This is a tough call because all of the starters are very good, but when Johnson does not play, they don't win. Johnson can hit the big shot and can adjust to the fast pace or slow pace as it is needed. The most versatile player on the team.
Rising Star:
Marvin Williams - You can argue he already is somewhat of a star, but I still think he gets overlooked because of the other four that surround him. Williams is the best defender on the team and I think he has a chance to make the NBA Defensive team this year.
Falling Star:
Speedy Claxton - We all love Speedy, and I still do. But it's like catching a turtle — eventually you will have to let it go. Speedy has a little bit left in his gas tank, but he isn't going to help this team a whole lot.
This team seems to be getting frequently overrated by many NBA experts. I like Emeka Okafor, Jason Richardson and Gerald Wallace. I love Larry Brown and sure, Sean May is a really good passer and maybe Adam Morrison can get healthy and...well...not much, but sure, he can get healthy. They have a nice little bench with Jared Dudley, Matt Carroll and Nazr Mohammed. So why do they finish fourth? Cause they get hurt more than Mark Prior in the middle of an NFL game. If they stay healthy, they should be fine. They have good shooting and the potential for a good team defense. But don't count on it. This year will be another disappointing season, but they are moving the right way.
Team MVP:
Emeka Okafor - The defensive leader, a great rebounder and when totally healthy, he can be enough of an offensive presence to open the floor for Gerald Wallace and Jason Richardson. When he is not healthy, they will struggle.
Rising Star:
Sean May - I never thought I would say this, but he can be a really good NBA player. Somehow he manages to rebound very well and pass awesome when he is healthy. The sky is the limit if he can stay on the floor.
Falling Star:
They don't have one. A) Because they do not have many stars B) They have virtually no veterans except Richardson, Wallace and Mohammed who are all still good players. 
No Agent Zero and no Brendan Haywood will leave this team searching for answers. Antawn Jamison and Caron Butler are the level-headed, consistent players for the Wizards. Andray Blatche and Nick Young emerging as really good players. DeShawn Stevenson and Antonio Daniels will be hard pressed to match last year's performance, but if they do, maybe they can stay out of the cellar. The defense will have major questions and it's inspiring to see Etan Thomas come back from heart surgery, but I doubt he will be the same. Looking at the other teams in the division, this team just does not seem as put together. 
Team MVP:
Caron Butler - He is the definition of consistency. He can play anywhere from the 2 to the 4 and do it well. He rebounds, he defends well and he can shoot or slash. They need him healthy.
Rising Star:
Nick Young - It was a tough call between Young and Blatche, but I think Young will develop more quickly. He has a great shot and great basketball IQ. I expect him to take his game to the next level this season, but Blatche will improve as well.
Falling Star:
Gilbert Arenas - It's not often the "best" player on the team is the falling star, but that's the case. Arenas will not be the same with these injuries, his defense continues to suffer and his shooting percentage isn't getting any higher. He can kill offensive rhythm.
This division may not have the same level of quality basketball as the central on a nightly basis, but the games will be more exciting. These teams run, shoot and block shots. If you like speed and flash, tune into the southeast division. Next up...the atlantic.